Pop Up Flower Bouquet Card Design #83
GET STARTED WITH FREEBIES!
Get free access to this design and all my free templates!
What's better than a greeting card? A 3D popup flower bouquet card! Create your papercraft bouquet with my step-by-step instructions, video tutorial, and free popup flower card templates! Using a Cricut cutting machine or scissors, you can make a perfect greeting card with a personalized gift message on the popup design's base.
A Pop-Up Flower
Bouquet Card is the Perfect Greeting
This unique card is the perfect size flower craft and an impressive gift. You can use this greeting card to bring a little cheer to a sick family member, as an anniversary card, a Mother's Day card, a Valentine's Day card, or for any special occasion that needs a beautiful pop of color and inspiration.
My Print Then Cut SVG files make this advanced paper craft quicker and easier. You will use your color printer to print the bouquet pages, and then use scissors or a Cricut cutting machine to cut the bouquet sides out to create perfect 3D paper flower bouquets! I offer paper bouquets in two color shades, but remember, these lovely card bouquets can be a fun piece of decor in any color!
This detailed paper flower craft takes time and patience, but I know you'll have a lot of fun creating grand paper flower bouquet cards, and you'll be an expert in no time! If you are looking for more card crafts, I have kid-friendly greeting cards and Christmas popup shaker cards, too!
Supplies Needed to Make
Pop-Up Flower Bouquet Cards
In addition to the downloadable template files above, you will also need: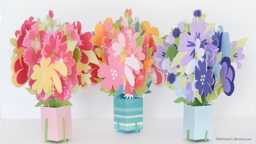 How to Make a Pop Up Flower Bouquet Card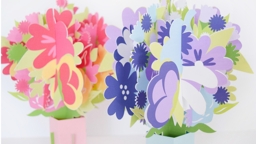 How to Make Pop-Up Flower Cards: Free Templates, Supply List, and Tutorial
Keywords: Cricut Crafts, Holiday Crafts, Mother's Day, Papercraft Projects, Valentine's Day, bouquet card, cards, cricut cards, floral card, gifts, mothers day, paper rose, pop up card, print then cut, valentines day