Christmas Movie Blanket Design #99
GET STARTED WITH FREEBIES!
Get free access to this design and all my free templates!
Download the file above and customize it with the words you prefer with the Channel font.
You can use the words "Hallmark," "a person's name," "the name of a Christmas movie," etc.
Download the Channel font here: This font is free for personal use and was used to type out the "Hallmark" word in Design Space.
Learn how to install and use fonts in Design Space here.
Because the Channel font is free for personal use only and is so similar to Hallmark's logo, the word "Hallmark" is left out in the design out of respect for the logo trademark holders, but you can type it out in Design Space with the free font above to achieve the result shown here.
Just remember to only use the font above for personal crafts and gifts for family and friends!

Christmas Blanket Video Tutorial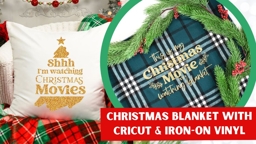 Christmas Blanket Blog Post
Keywords: Christmas, Cricut Crafts, Felt & Fabric Projects, Holiday Crafts, 56, blanket, christmas, christmas gifts, christmas movies, crafts, Cricut, gifts, hallmark, hallmark blanket, iron on vinyl, svg cut files, vinyl