3D Paper Pencil Paper Teacher Gift - Design #329
GET STARTED WITH FREEBIES!
Get free access to this design and all my free templates!
If you're like me, you understand how hard teachers work! They are the unsung heroes of our children's lives and are often overworked and underappreciated. That's why I like to give our teachers little tokens of thanks during holidays like Christmas or Thanksgiving, and I especially remember to show how grateful we are during Teacher Appreciation Week (the first week of May). One of my favorite teacher gifts is a 3D Pencil Shaped Paper gift box.
About the 3D DIY Pencil-Shaped Paper Pencil Box
You are probably busy, and your calendar is full - which can lead to forgetting you need a gift until the day before! Luckily, this 3D Pencil-Shaped Gift Box is a present itself and easy to make! It is also customizable: the gift box can look like a pencil, complete with a pencil point and eraser, or transformed into a colored pencil or crayon. You can add colorful embellishments like rosette flowers or personalize the paper gift box by adding your teacher's name. Inside the pencil-shaped gift box, you can add gift cards, treats, or other tokens of admiration.
Creating a personalized teacher gift and favor box is one small craft activity that yields big results. What teacher wouldn't want a handmade, thoughtful pencil gift box full of little treats?
These paper pencil boxes can act as fun gift packaging that teachers can display long after the small gifts inside are gone. It's a simple DIY gift box that can be given as a Christmas gift, a Teacher Appreciation celebration, your teacher friend's birthday, to celebrate the new school year, or any time you want to acknowledge all teachers do for our children and communities.
I've included a video tutorial and step-by-step instructions on creating a pencil-shaped, crayon, or colored pencil gift box. This free template has an SVG file for use with a Cricut or other cutting machine and a PDF file if you are using scissors. It's easy to use and includes fold lines, a separate lid piece, and picture examples.
Happy crafting!
Supplies Needed for 3D Pencil and Crayon Paper Gift Boxes: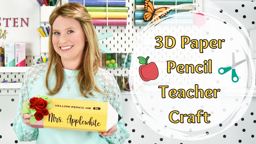 Large 3D Paper Pencil Craft Video Tutorial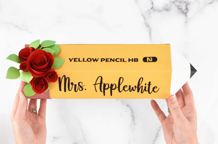 Teacher Appreciation Gifts Blog Post & Tutorial
Collection: Teacher Appreciation Collection
Keywords: Cricut Crafts, Vinyl Projects, crayon gift boxes, cricut paper flowers, DIY gift, gift ideas, pencil, pencil boxes, rolled rosettes, rosette, rosettes, teacher, Teacher Appreciation Gift, Teacher Appreciation SVG, teacher gifts